Join The Wine Counselor® at any of the public events listed below and be sure to follow us on social media and in our newsletter to stay up-to-date on events in your area. Please click on the venue name for a link to the address and directions.
3RD THURSDAYS AT EASTERN MARKET

BOURBON & SMOKE
Next Workshop on Thursday, Jan. 16th 2020
Shed #5
Check out everything going on at the Eastern Market >>
WINE TASTING AND ARTISAN FOOD PAIRING
Eats & Crafts of Troy - 7 pm to 8:30 pm
Experience five hand-selected wines paired with a delicious artisan food masterpiece created by Executive Chef Xavier Delossantos.  The series is $125 for all three classes in the series or $49 each.
Nov. 18  |  The Big 3 of Red Grapes
Pinot Noir, Merlot & Cabernet Sauvignon are the most popular red grapes. Enjoy very different expressions of these grapes. Discover how & why the same grape can taste so different!
Dec. 4  |  Super Sparklers
Who doesn't love sparkling wine? Bubblies are fun and festive for the holidays! Whether just toasting TGIF or celebrating a special occasion, sparklers are the perfect choice!
Eats &  Crafts  |  Tickets/Reservations Available by Phone 248-879-8124
SUBTLETIES OF SCOTCH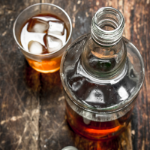 Thursday December 5, 2019 at The War Memorial
7:00 PM TO 8:30 PM
Discover 6 very different styles of this classic spirit. From smooth & silky to dignified and youthful, discover learn why this whiskey is a worldwide favorite. Enjoy a stellar variety of this fascinating malt beverage. Refine your palate with these fascinating variations!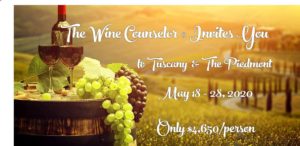 THE WINE COUNSELOR INVITES YOU TO TUSCANY & THE PIEDMONT
May 18 - 28, 2020
Michael Schafer, The Wine Counselor©, will be leading a journey dedicated to the discovery of great wines and cuisine in Tuscany and the Piedmont regions of Italy - two of the great wine and culinary areas of the world.   The Wine Counselor© has an unmatched breadth of knowledge and passion for wine, and a unique style of "edutaining" his guests about the incredible wines they will experience.
Got an Event We Should Know About?
Book The Wine Counselor® for your upcoming festival, fundraising event, winery or brand event.
It all starts by contacting us.